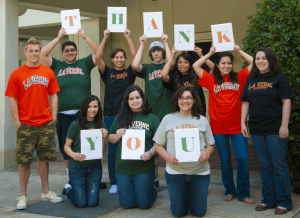 Wilson Library welcomes gifts in the forms of endowments, bequests, special gifts, printed materials, and equipment to support the academic teaching and research mission of the university and for the enhancement of Library collections, services and facilities.
Monetary donations may be given to the Library through University Advancement. To do this visit the Giving page, under Designations choose "Give to your area(s) of choice." A pop-up will appear and select Wilson Library.
There are many ways to show your support for your library:
Buy a Book Program
Your gift will go a long way in supporting the library's resources, both print and electronic. You can choose to donate towards a purchase in the honor of a loved one, a faculty, student or staff member. You can designate your contribution towards the purchase of materials in any of the subject areas listed below or your area of interest:
Arts and Humanities
Poetry
Literature
Science
Social Sciences
Business and Management
Leadership
Women's Studies
Endow a Collection
Endowments provide permanent funding to the library for building collections in a specific subject area or for a specialized interest. For more information on how to set up an endowment, please visit University Advancement's website about endowments.
Enhance Existing Endowments/Funds
You can choose to contribute towards the continued sustenance of existing endowments or funds created to support the library's collections.
Wilson Library Endowment Fund
Established by the beloved Wilsons (Elvin and Betty) for whom the Library is named, the fund has sustained the Wilson Library building for decades.  Earnings from this fund have been recently used to purchase computer workstation chairs and add technology to the library instruction and conference rooms.
Marlin Heckman Reference Collection Endowment
This fund was established in recognition of Dr. Marlin Heckman's 31 years of devoted service to the University of La Verne as University Librarian, and in light of the desire of family, friends, faculty, staff and students. The annual earnings are used to purchase resources to enhance the reference collection at the Library. Previously generated funds have been used to purchase collections such as: Blackwell Reference, a collection of 150 e-books in business and management.
University Archives and Special Collections Fund
This fund was established by alumna June Pulcini '53 to fund the processing of her collection of La Verne College volunteer service materials and to support the functions of the University Archives and Special Collections housed in the Wilson Library.
Friends of the Library – Wilson Associates
The Wilson Library Associates exist to promote the interests, to focus attention on the needs, and to strengthen the resources of the Elvin and Betty Wilson Library of the University of La Verne.
All friends of the Library are urged to become members of the Wilson Library Associates and thus help maintain the Library's position of leadership and excellence in the life of the University. Libraries become great largely through gifts, bequests, legacies and many benevolent personal services of individual friends.
Wilson Library Associates are issued a membership card that entitles them to borrowing privileges, reference services, as well as invitations to attend activities held in or sponsored by the Wilson Library. Spouses/Partners enjoy joint membership. Membership is renewable annually and is available in the following categories:
Benefactor, $1,500.00 or more annually
Patron, $1,000.00 annually
Sustaining, $200.00 annually
Contributing $100.00
Please make checks payable to: Wilson Library Associates, ULV.
Forms and checks should be mailed to:
University Librarian
University of La Verne
1950 Third Street
La Verne, CA 91750
Donate Collections
Gifts of books to the library are accepted with the understanding that materials will be evaluated using the same criteria as materials which are purchased. The library only accepts donations of journal issues that replace missing issues in its current print holdings. Exceptions may be made for extremely rare or valuable serials, serials of particular interest to the University or those that are valuable to teaching and research at the University.  Please click here for further information on the Library's gift policy.
Contact Us
Vinaya Tripuraneni
University Librarian
Wilson Library
2040 3rd Street
La Verne, CA 91750
(909) 448-4300