The original library for Lordsburg College when it opened in fall of 1891 was located on the first floor of the remodeled Lordsburg Hotel building. "A large library room furnished with reading tables, where many of the best magazines are available for the students, is one of the helpful adjuncts of the college." (Annual Catalog 1909-1910, Lordsburg College). The Lordsburg College building stood on the same land where the current library building is located, facing the railroad tracks to the south.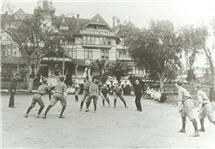 When Founder's Hall was completed in 1927, the original college building was torn down and the land leveled and turned into College Park.
From 1927 to 1951, the library was a room in Founder's Hall.
The city of La Verne purchased the block on which the original college building stood; in 1955 the city sold it to a developer for the construction of an Alpha Beta supermarket.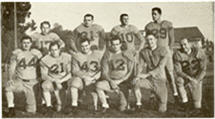 In 1951, the library moved to the W.I.T. Hoover Memorial Library building. The building was named for the President of Lordsburg College from 1899-1901 who returned as Dean and Professor of Philosophy from 1912-1938.
In 1977, with financial assistance from college alumni Elvin and Betty Wilson, the university purchased the supermarket building and remodeled it to become the Wilson Library. The library for the La Verne College of Law moved into the space in the Hoover building vacated by the University Library.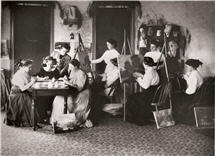 In the summer of 1993, Wilson Library was closed for much needed expansion and remodeling, again led by generous donations from alumni Elvin and Betty Wilson. Library faculty and staff, reference materials and journals were temporarily relocated to what is now the Barkley Building on D Street. The 150,000+ books in the collection were moved to a warehouse on First Street in La Verne, approximately 1 mile from campus. Upon user request, books were pulled from the warehouse and delivered to the temporary library several times daily.
In January 1996, the Elvin and Betty Wilson Library reopened in its current location. The building was dedicated February 3, 1996.
Just as the library remodeling was almost completed, some grading equipment working on the amphitheater area (on the lawn just west of the library) uncovered the site of the trash dump for the old Lordsburg College building. Students undertook an archaeological dig for over two years, during which time ink bottles, dishes, eyeglass frames, and a pocket watch were excavated, along with hundreds of other items.
To learn more about this history of the University of La Verne, check out these books: